NY 529: The plan for every saver
What is a 529?
529 plans are a type of investment account that can be used for higher-education savings. Tax savings make these vehicles powerful.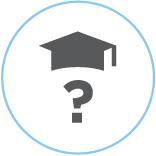 Have questions?
Find answers to common questions
*Up to $10,000 is deductible annually from New York State taxable income for married couples filing jointly; single taxpayers can deduct up to $5,000 annually. State tax benefits for non-resident New York taxpayers may vary. State tax deductions may be subject to recapture in certain circumstances such as rollovers to another state's 529 plan, nonqualified withdrawals, or withdrawals used to pay expenses for tuition in connection with enrollment or attendance at an elementary or secondary public, private, or religious school. Please consult your tax advisor.