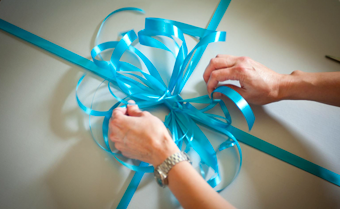 The holiday gift-giving season may be over, but now's a good time to plan for upcoming birthdays and other family events. The next time someone asks for your child's gift list, invite them to contribute to your 529 plan account!
Long after the gift cards are used and toys are thrown away, your college savings will be there when your child really needs it. Contributing to future education expenses gives your friends and family the opportunity to make a difference in your child's life.
Ugift makes it easy
It's easy to invite people to contribute to the 529 college savings account you opened for your child using Ugift®—Give College Savings.
Ugift is an automated online program that enables you to let friends and family know that a 529 plan contribution is at the top of your child's wish list. You can send notifications by email or print them to include in party invitations. Using a unique Ugift code that you provide them, gift givers can contribute to your account electronically or by mail. It's that simple.
To use Ugift:
Log on to your 529 plan account.
Select the appropriate account number.
Select Ugift and follow the instructions.