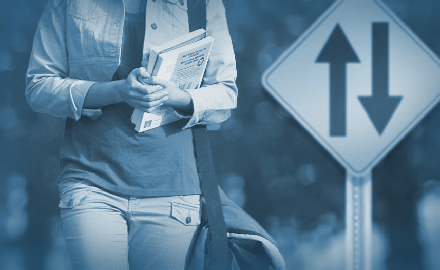 Your child chose a college and started classes. You paid the first tuition bills and budgeted for the next few years. But are you equipped to handle a college transfer if your future grad has a change of heart?
About a third of college students switch schools. Some students seek a different major, better job placement possibilities, or a different campus culture. Others want to attend a less expensive school (to reduce the amount they'll have to borrow) or be closer to—or farther from—hometown family and friends.
Whatever reason your child decides to switch schools, it's important to remember that there's more than one path to graduation—and taking a detour isn't equivalent to hitting a dead end. Here are some tips to minimize the extra costs, time, and stress associated with a college transfer.
Make sure it's a good fit
Visit the new college with your child. Talk with students who are in a similar academic program, and sit in on some classes as guests. To conclude your visit, talk with a transfer advisor and the school dean, if possible.
Show current grades
Unlike the initial college application process, students shouldn't count on their high school transcripts or SAT scores to secure acceptance to a new college. The admissions department will be much more interested in your student's current college grades.
Don't wait too long
Students should consider switching schools before their junior year—it's more difficult to transfer credits that accumulate after their sophomore year. Encourage your child to apply early, at least a semester before he or she wants to start classes.
Know what's transferrable
Make sure your child understands which credits will transfer easily, and encourage him or her to start a formal appeals process for any course credits that require review.
Many institutions have a maximum number of credits they'll accept from another college or program of study, and transfer students may have to appeal to the school's registrar and dean to have course credits accepted. Often, credits will transfer only for courses in which your child earned a "B" or higher.
The credits appeal process can go on for several months. After negotiations are complete, students may be required to attend school for an extra semester or two in order to graduate, so it's a good idea to prepare for the possibility of paying for an extra year beyond what you originally budgeted for.
Ask about financial aid, scholarships, and grants
Transfer students with good grades are a desirable market for some colleges. So before transferring, they should ask about financial aid, scholarship, and grant opportunities.
The tips above may not take all the stress out of a college transfer, but they can help make the process smoother and keep you focused on the end goal: seeing your future grad in a cap and gown.