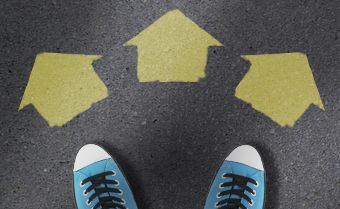 Deciding which college your student should attend is an exciting time, but it can also be a little overwhelming. Gathering key information about potential schools can help you narrow down the search and eventually lead you to the one that's the best fit for your student.
Getting started
A couple of broad-based online sources that can help you explore all your options are the National Center for Education Statistics College Navigator and the College Board's BigFuture College Search Step-by-Step. Each offers a wealth of information about the current college landscape.
Use the College Navigator tool
Once you've identified some schools to consider, visit their websites to learn more about them. Many sites offer virtual tours and enable you to connect with admissions, faculty, alumni, and even current students. You can also take advantage of resources provided by the student's high school guidance office, such as college fairs, which provide an opportunity to speak with representatives from a number of colleges and universities.
No matter which research methods you use, here are some factors you should consider when evaluating any school.
Admission requirements
Each school has different criteria for admission. Before applying, be sure to ask:
What are the application deadlines, minimum standardized test scores, and other requirements?
What are the average test scores and grades of admitted students?
Does the college use its own application or the Common Application, which allows students to apply to more than 600 colleges and universities using one centralized application?
What is the application fee? If you can't afford the fee, find out if it can be waived.
Learn more about the Common Application
Cost and financial aid
The cost of college keeps going up, as does the level of student loan debt. However, it's important to note that families don't usually end up paying the full "sticker price" for college because most students qualify for some type of financial aid. (Watch out for financial aid packages that are heavy on loans as your student will need to pay them back, with interest, once they graduate.)
You may want to expand the list of schools you're considering to include those known to provide more generous financial aid. The school websites should detail the aid they offer, and many also have a net price calculator so you can estimate what you'd actually pay. You can also find out about net price through the College Board.
Most schools use the Free Application for Federal Student Aid (FAFSA) in determining their institutional financial aid awards, but some may require other applications as well.
New York State students and families can find complete information about federal and state financial aid including the New York State Tuition Assistance Program (TAP) and other scholarships at the Higher Education Services Corporation (HESC) website.
If your student qualifies for the Federal Work-Study Program or plans to work on or near the campus while at college, investigate the available jobs and how to apply. To be considered for the Federal Work-Study Program you'll need to complete the FAFSA.
Academics
Learn what programs each college offers by perusing their websites or printed course catalogs. If your student has already decided what to study, make sure the school offers that major. And be aware that some academic programs require an application separate from the college's admission application.
For students who haven't chosen a career yet, the occupation profiles in the U.S. Department of Labor's CareerOneStop might spark some interest.
Explore careers on CareerOneStop
You'll also want to size up the learning environment. For example, are most courses taught by professors, or teaching assistants? Some other questions to consider:
What are the faculty/student ratio and average class size?
Is academic assistance is available, and how accessible is it?
Are online courses offered?
If you visit the campus, check out the computers, labs, and other technologies to be sure they're up to date. Assess the research opportunities provided and tour the facilities. Visit the library to see the condition of the books and other reference materials.
It can also be helpful to know what percentage of students graduate in 4 years. If a lot of students take longer, ask why. And inquire about career placement assistance and the percentage of graduates who get jobs in their chosen fields.
Residential life
Living at college provides the opportunity for unique experiences that will remain with your student forever. But to make sure that experience is the best it can be, you'll want to get a feel for each college's residential life.
Start with the housing itself—what are the dorms or residence halls like? How many students are there per room, and how are roommates selected? Is housing guaranteed for all four years, or will your student have to make off-campus arrangements after a certain period?
Then move on to other essentials like security, health, and food. Is student safety a top priority? Are medical services easily accessible? What kinds of meal plans are available, and how much do they cost? If your student has any particular dietary requirements, make sure they can be met.
Is your student planning to keep a car on campus? Most campuses have limited parking, so check out restrictions and fees. And if your student won't have a car, look into other transportation options and their costs.
Student life
The college experience isn't just about classes and studying. It provides opportunities for your student to participate in a variety of programs and activities. Take some time to learn about the clubs, organizations, and recreational opportunities available.
If your student is interested in joining a fraternity or sorority, see which ones have a chapter there and what's involved in becoming a member.
It's important to think about the community where the school is located, too. Which sounds more appealing—a big city or a small town? Does the area offer opportunities for cultural experiences? What about outdoor activities like hiking or biking, or other pastimes? As you evaluate location, remember to factor in the expenses for traveling to and from campus based on the school's proximity to home.
As an overall measure, the school's student retention rate can be a revealing statistic. A higher rate shows the college is successful in admitting students who are a good fit, which may help you feel more confident in your final decision.
College is a big investment in both time and money, so it's important to choose the school that will be the best fit for your student. Thoroughly researching college choices can help you and your student make informed decisions that lead to a rewarding college