Need some motivation to start saving?
Time flies. You'll be cheering at your child's graduation sooner than you think. And there are plenty of reasons to start saving right now.
Why bother saving for school?
Higher education can help children achieve whatever their dreams may be. Two- or four-year college, trade school, vocational school, apprenticeship programs or graduate programs can offer great opportunities. Saving now could mean borrowing less for school in the future.1 The potential for years of returns can also help you combat rising costs and limit student debt that can burden your child.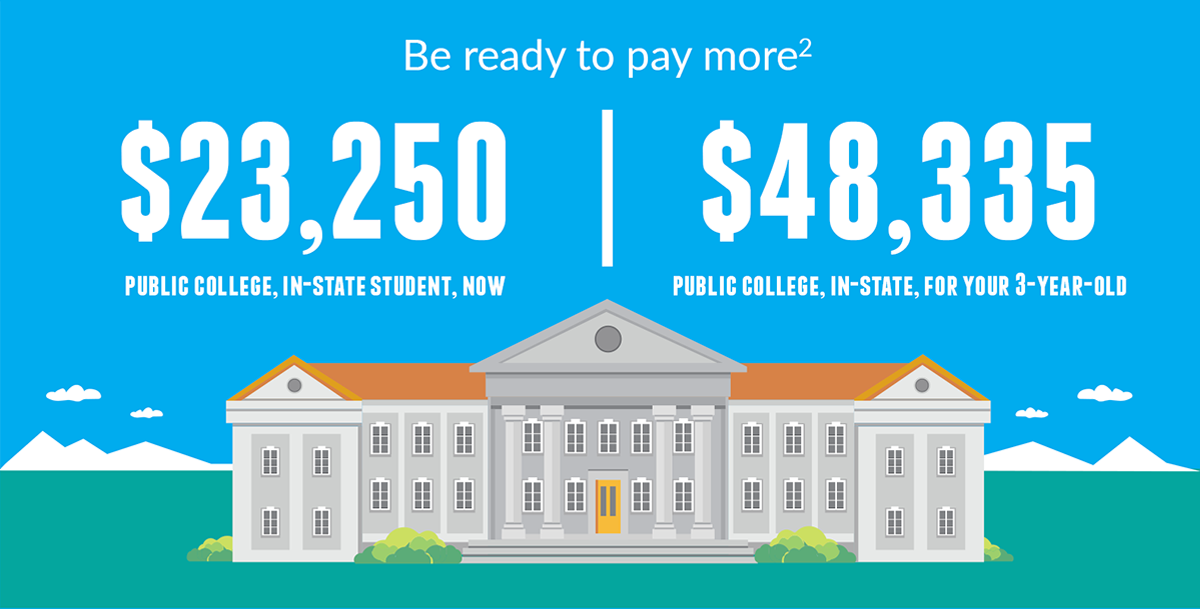 Source: Calculated using The College Board's Trends in College Pricing 2022. The 2022-2023 average cost of college tuition, fees and room and board was calculated by using the 2022-2023 average cost of $23,250 for a public college for in-state students, and projected costs assumed an increase of 5% annually for 15 years. This is a hypothetical example and does not guarantee these results.
Why 529s instead of other ways to save?

All 529 accounts offer tax benefits that other ways to save may not. 529s have the following advantages:
Your earnings are tax-deferred
No federal taxes on qualified withdrawals*
New York state taxpayers may qualify for more state-tax benefits**
Impact on financial aid eligibility is low***
It's easy to invite others to make gift contributions
Get more good news about tax benefits.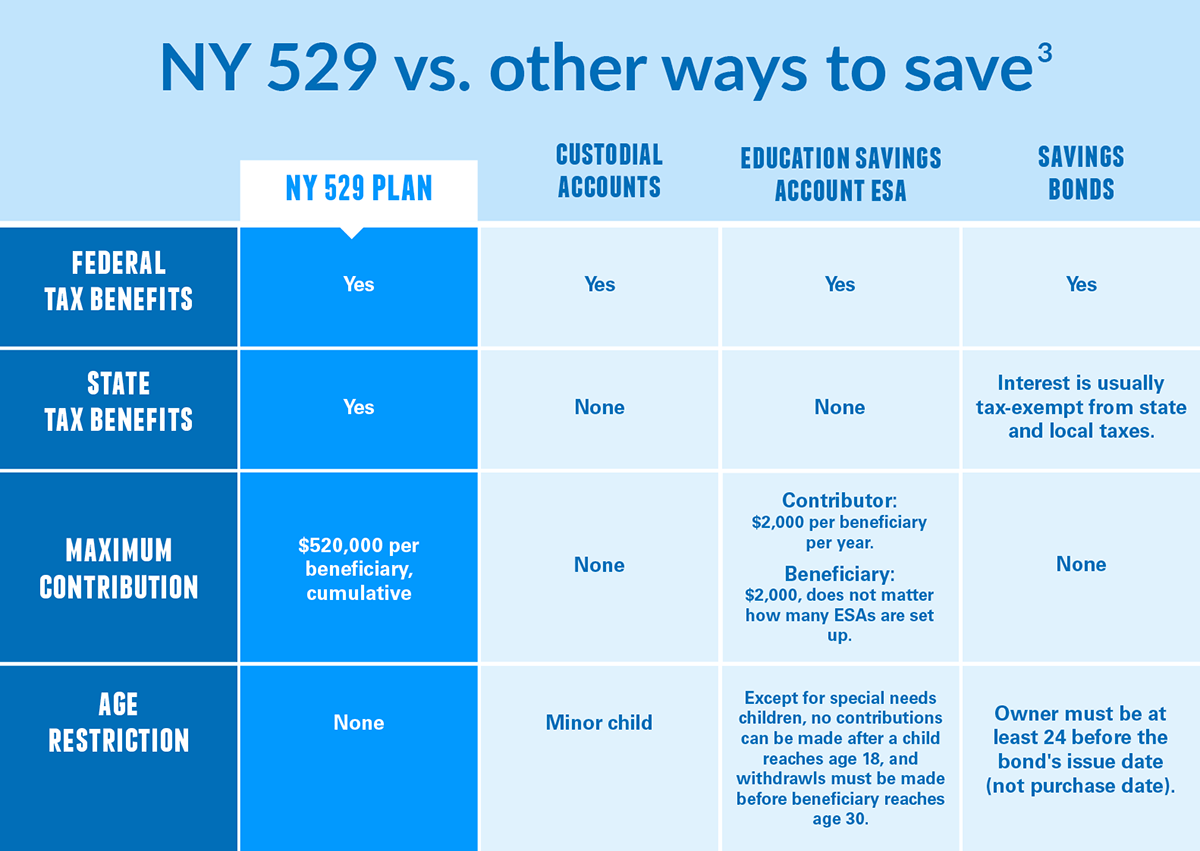 What's special about NY 529?

Ranked Best Overall 529 Plan by Forbes4
No minimum contribution
No advisor fees, commission, or account maintenance fees
See why more than a million investors have chosen NY 529.

Where and how can I use it?

At more than 6,000 eligible institutions in the U.S. and abroad, not just New York
At two- and four-year colleges, trade and vocational schools, apprenticeship programs and graduate programs
For tuition, supplies, books, certain room and board expenses, and many other eligible expenses
If your child doesn't need the money you have options, it's not use it or lose it
Why start now?

Open an account in about 10 minutes
No minimum contributions
Starting early can make a huge difference
Tools make it easy-mobile app, automatic investment plan, and online gift codes so friends and family can contribute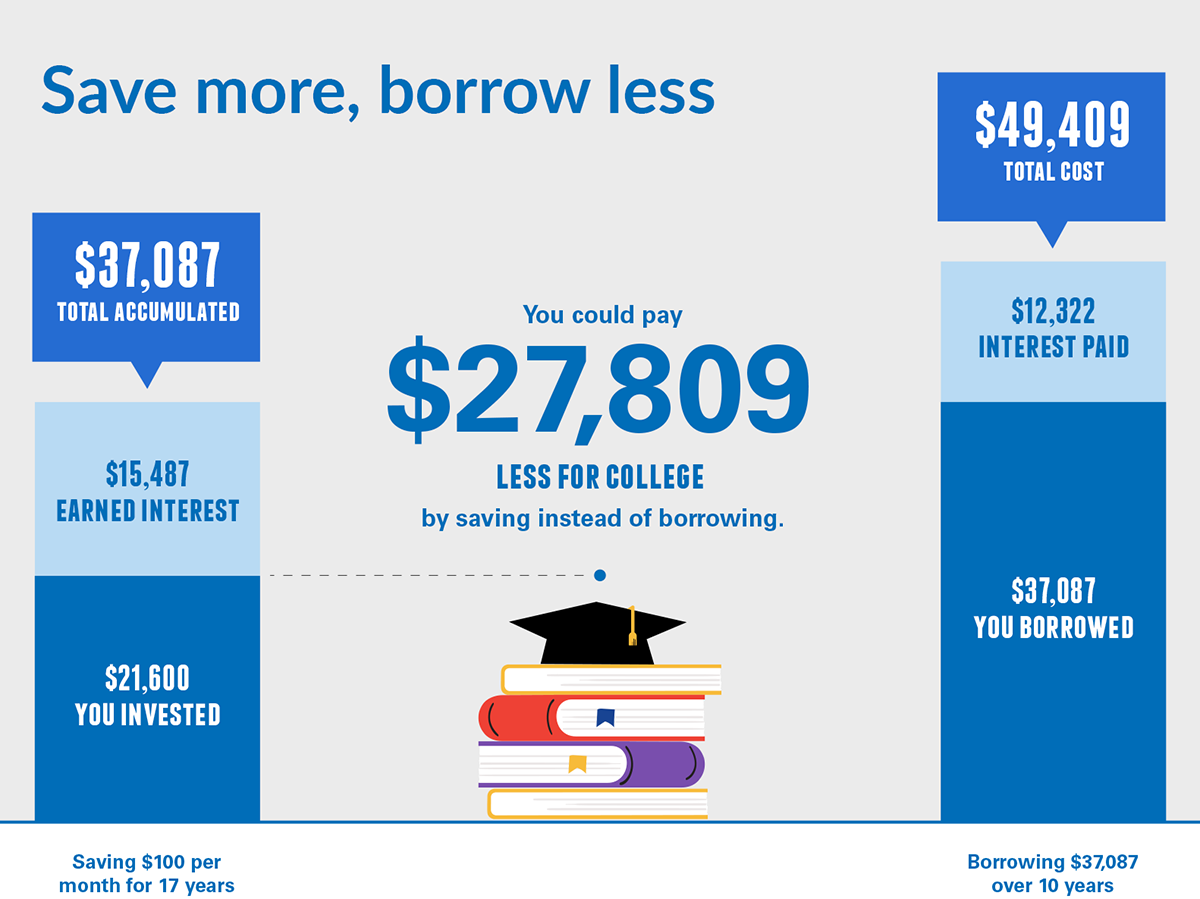 These hypothetical examples don't represent the returns on any investment, and the final account balances reflect no taxes or penalties that may be due upon distribution. Account balance assumes a contribution of $100 per month for 17 years at a rate of return of 6%. This rate is not guaranteed. Loan estimate assumes a principal loan amount of $37,087 paid monthly over 10 years at an interest rate of 6%.
Sources:
https://www.hesc.ny.gov/pay-for-college/federal-loan-repayment-estimator.html February 2022